Whatsapp has started again releasing it's a new feature for the Android beta users. This new feature will let the users distinguish between the original and forwarded messages.  For Android beta version 2.18.179 Whatsapp will label the forwarded messages as 'Forwarded' so that there will be a difference between the regular and forwarded ones. The feature is now available to all the beta users for the Android platform while a broader roll-out of Android stable build, iOS, and Windows Phone platforms is expected in coming days.
Unlike previous times, when a user forwards a message to some other contact, Whatsapp labels the messages as 'Forwarded' to avoid the confusion between regular and forwarded messages. Earlier, there was no such indication to differentiate between these kinds of messages. While this could come as a welcome change, some people might not like it as they don't want their contacts to identify them as the ones who forward all the messages – think about all the 'Good morning' message chains in family groups.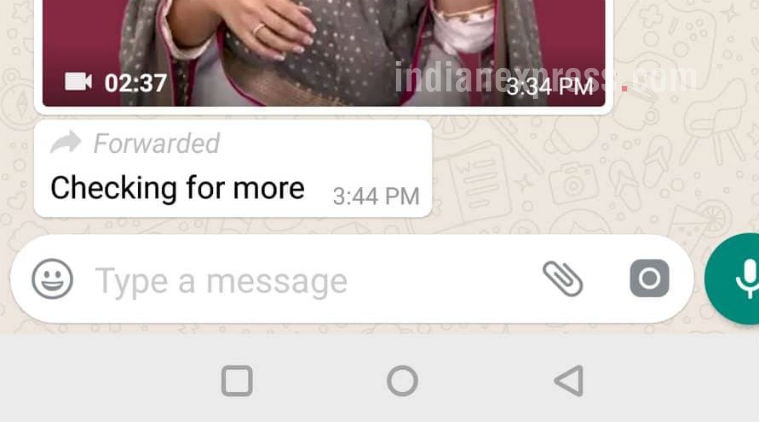 To forward a message, you have to long-tap on a message in a chat – the message could be yours or the recipients. A few options will appear on top, where the contact name is shown. Now, tap on the right arrow denoting forward, followed by a tap on the contacts you want to forward the message to. After this, you need to tap on the Send icon at the bottom to send the messages. Now you can also jump to any of the chats that you forwarded the message to see the 'Forwarded' label.
Recently, Whatsapp was reported to expand its payments platform to a wide base of users. This will mark the formal entry of Whatsapp into the digital payments scene of India, which is heavily amassed by the likes of other leading players including Google, Paytm, and more. The Whatsapp payments feature, which is yet to get an official name, will roll out to over 200 million active users in India.