U.S. was totally isolated from defending Israel on Palestine UNSC resolutions. This was during the voting on two resolutions on Palestine, one proposed by Kuwait and a counter-motion put forward by it.
The United States vetoed on Friday a Kuwaiti-drafted U.N. Security Council resolution that condemned Israel's use of force against Palestinian civilians, underlining Washington's differences with friends and foes alike over the Israeli-Palestinian issue. Later, a second, U.S.-drafted resolution that blamed Hamas for the violence and upheld Israel's right to defend itself failed to attract any other country's support when it was put to vote in the 15-member council.
The unusual asymmetry in two consecutive votes on Friday came about because even its closest allies abandoned the U.S. while its Permanent Representative Nikki Haley stood defiantly vetoing a resolution put forward by Kuwait and proposing a countermeasure that received only her vote.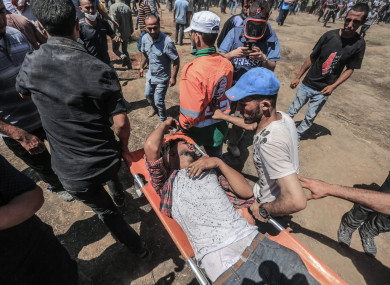 The resolution drafted by Kuwait sought to condemn what it called the disproportionate use of force by Israel, including the firing of live ammunition by its forces on Palestinian protesters last month near the border with Gaza. 10 votes were received by it, while the sole vote against it by the veto-wielding U.S. killed it as Ethiopia, Netherlands, Poland and Britain abstained.
Ms. Haley blamed the "terrorist group Hamas" for the conditions in Gaza and said the resolution was one-sided as it blamed only Israel. The counter-resolution was proposed by her that described Hamas as a terrorist group and condemned the indiscriminate firing of rockets by Palestinian militants in Gaza towards Israel.
The resolution received only her vote, while Kuwait, Russia and Bolivia voted against it and the remaining 11 countries abstained. Ms. Haley said: "It is now completely clear that the UN is hopelessly biased against Israel. The U.S. will not allow such bias."
Kuwait's Permanent Representative Mansour Ayyad Alotaibi spent several days negotiating with Council members to come up with a veto-proof resolution on the Palestinian protests that have resulted in 119 deaths since March from Israeli action. While he managed to get enough direct support for it, he could not get the U.S. to give up its veto.
In contrast, Ms. Haley did not consult other members of the Council before proposing the U.S. resolution. Mr. Alotaibi said that the message from the Council after the U.S. veto was that Israel, which occupied Palestinian territories, was exempt from international law.
Israel's Permanent Representative Danny Danon countered that the Kuwaiti resolution sought to give the Hamas — a "terrorist organisation" — the Council's stamp of approval by not detailing its role in the conflict.